We work with education organizations to build pathways towards innovation & improvement, plan through implementation, and perform cost analysis
We provide wrap-around, comprehensive support services that build leadership capacity Wrap-Around Services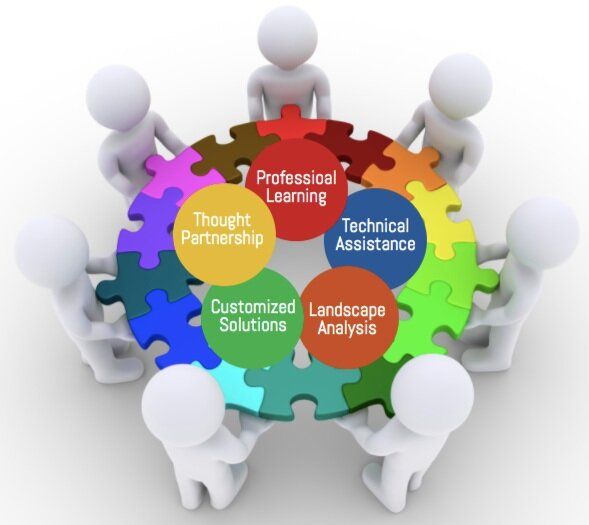 School District Landscape Analysis
iLC landscape analysis services provide a 3rd party independent analysis of your school and/or district landscape. This analysis provides key observations, trends, and recommendations to optimize the implementation of your school/district plans.
Thought Partnership
iLC thought partnership provides coaching support to school and district leaders to identify and enhance leadership capacity for systemic solutions.
Technical Assistance
Educator and program evaluation processes and strategies
Project management
Strategic planning, design and implementation support
Professional Learning
Formal leadership PD for school and district leaders
Just in time
Aligned to teacher-focused PD
One on one coaching 
Customized Solutions
iLC consulting services can customize services to meet the specific needs of each school and/or district.
Jamboard – Lessons Learned and Emerging Best Practices
https://jamboard.google.com/d/1tWhJ8OqNq4ZlF550pcAgnZkNqDtols0jkTb6YbGC5Uo/viewer?f=1
Blended Learning Resources
https://jamboard.google.com/d/1tWhJ8OqNq4ZlF550pcAgnZkNqDtols0jkTb6YbGC5Uo/viewer?f=1

"The consulting process is an external infusion that has given our work heightened exposure to a wider range of leadership and schools. Without this process, we would likely have continued to bump into the walls of opposition."
— Weldon Valley Schools
"It has been an absolute pleasure to be working with you, Judy and the rest of the iLearn team. I would have to say that, without your help and guidance for our teachers and staff, we wouldn't be where we are at today. That being said, you guys have been tremendous to work with and we are very happy to be working with you all going forward."
— Cañon City School District
---
iLearn Collaborative is fortunate to receive the support of Colorado Empowered Learning and other philanthropic donors who subsidize our most popular services.  Contact Us to be considered for hours of complimentary services.